The move FACTORY: a new place dedicated 100% to mobility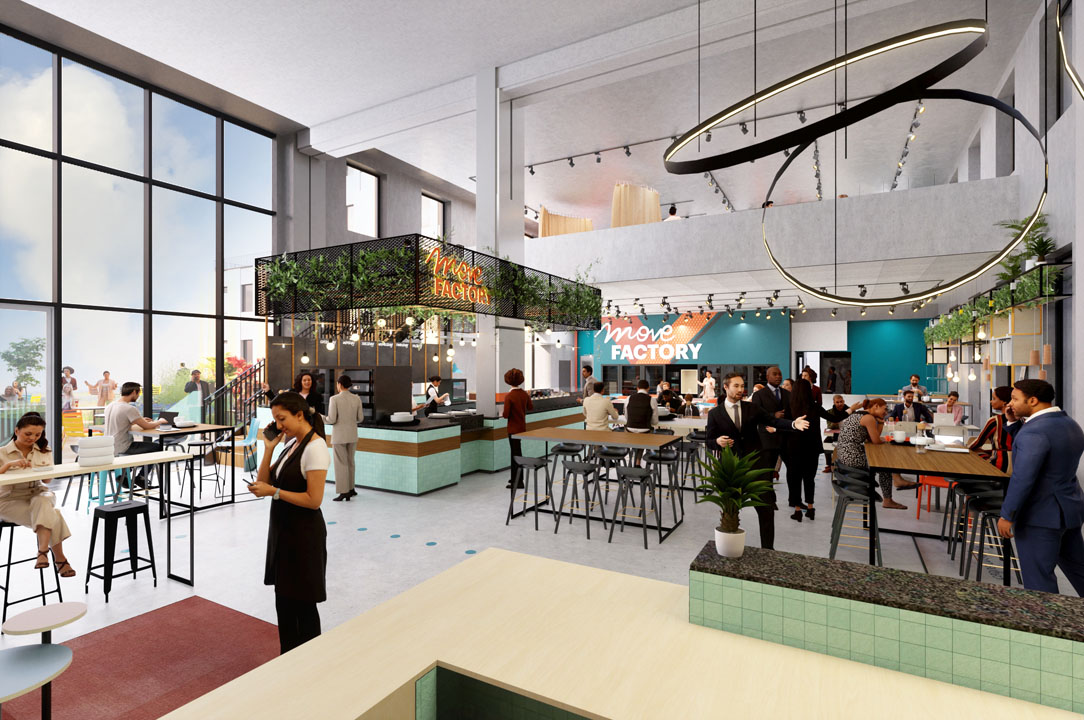 The move FACTORY: a place of excellence and reference for mobility players
The move FACTORY, a shared ecosystem in the heart of the European Metropolis of Lille, promises to create tomorrow's mobility together. Under the impetus of Mobivia, this site was developed by ADIM Nord-Picardie and designed by the MAES Paris architectural firm for the complex of 3 interconnected buildings, as well as by our office, Out Of Office, for the interior design of part of the spaces and the implementation of new ways of working for Mobivia employees. The objective is to encourage exchanges and connections between private, public, academic, and associative mobility players. This place, unique in Europe, will open its doors in September 2022.
The move FACTORY, an open ecosystem dedicated to mobility
In 2018, Mobivia, the European leader in car maintenance and repair, bringing together 9 brands (including Norauto, Auto 5, Midas) and around thirty start-ups, formulated its intention to create workspaces that contribute to accelerating the transformation of its various businesses. All the while, Mobivia's DNA, its socio-environmental commitments, and its reason of being: to open up sustainable mobility to all. The move FACTORY project is taking shape: creating a collaborative, open and shared ecosystem site dedicated to mobility.
In 2022, Mobivia will relocate its head office to this brand new location, which will encourage interaction and collaboration between the group's entities, as well as meetings with companies and external players.
Together, we imagined and co-created a tailor-made space that is unique in Europe, the result of a rich collaboration: an open and hybrid third-place in phase with the current needs and desires of everyone in the office. Indeed, the Covid-19 pandemic has changed the way we work, calling into question the layout of workspaces. Employees want more sharing, flexibility, and adaptability in the office. This has been reinforced by the Covid-19 crisis.
FIND OUT ABOUT THE PROJECT: The move FACTORY, a new unique place dedicated to entrepreneurs and mobility experts
An architecture designed to encourage connection
At the heart of this project: human contact and serendipity.
This is also a fundamental principle at Out Of Office. The many encounters during the day encourage innovation and cooperation. Therefore the architecture must facilitate the mobility of employees within the spaces and thus offer an enriched experience that reinforces communication, sharing, collective intelligence and, ultimately, generates transversal collaboration that creates value and performance. An experience that improves communication, resource sharing and therefore collective intelligence. Working days are therefore more efficient and enjoyable. Design plays an essential role in inducing and influencing the occupants' journey through the space.
The challenge for our company Out Of Office was to design a unique place focused on mobility and to transcribe Mobivia's vision of work. Each environment was designed to meet the new expectations and changes in the sector. The spaces have been designed to inspire employees and allow them to feel comfortable to activate their full potential. The creation of hopper-like openings that allow two floors to communicate visually is a lever for highly dynamic areas dedicated to informal meetings and gatherings. In the open spaces, ingenious separation solutions preserve privacy and provide an atmosphere conducive to concentration. A colour code also allows residents to situate themselves in the move FACTORY. Finally, new internal communication tools, both physical and digital, have been designed to promote Mobivia's initiatives and projects and to contribute to the pride of belonging to this ecosystem.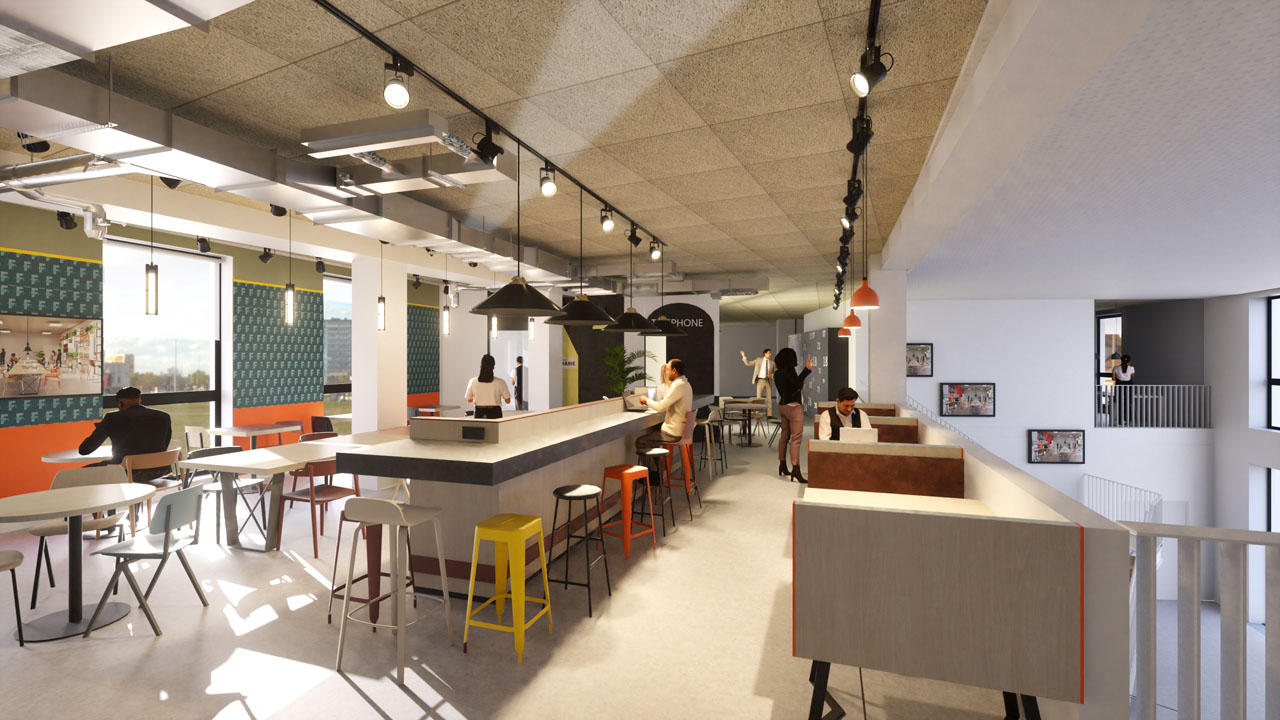 READ ALSO: What to do with surplus office space? The "inclusive headquarters" could be the solution
A corpoworking space for mobility players
This place is also open to other mobility players. Indeed, the move FACTORY offers an innovative range of available spaces, and in particular a residence offer via turnkey workstations in the corpoworking site in Villeneuve-d'Ascq. There is, among other things, a business center with modular spaces for meetings, pitches and gatherings, as well as spaces for concentration. 
At the heart of the move FACTORY, and as a meeting point for all its occupants, other environments have also been designed, such as a hub, a real living and exchange area, suitable for all types of events, both informal and professional; as well as outdoor spaces (heart of the block, patio, gardens, and terraces) that become real extensions of the workplace or relaxation area. A new way of experiencing the office building for all residents at the heart of an innovative economic area.
At Out Of Office, we are proud to have given life to this unique project, reflecting Mobivia's values, and to have contributed to the mobility of tomorrow.