10 trendy and comfortable office chairs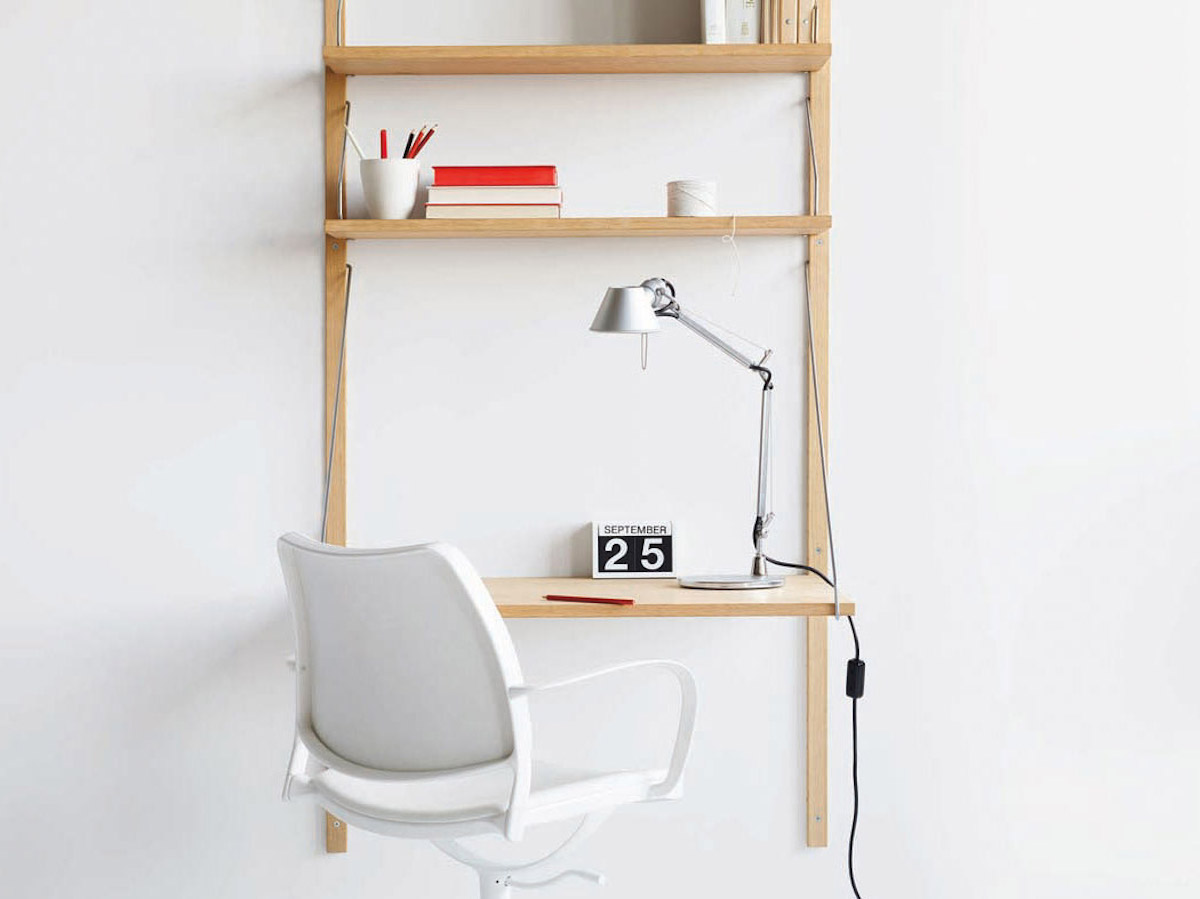 Whether working at home or in the company, choose your office chair carefully. Ergonomic, aesthetic, comfortable, technical, it must be all of these at the same time. Discover our selection to furnish your interior with a comfortable and design seat.
The seat is an essential element of the workstation. Choosing an office chair can be compared to choosing a car. The more options and technicality there are, the higher the price. When buying a chair, you have to take into account the comfort, characteristics, look, sensory (natural or synthetic fibers), while staying within your budget … But whatever your choice, always try a chair before you buy it. "The ideal office chair should adapt to your physiognomy, accompany your movements and be adjustable to your preferences", explains Elena Van Ginderdeuren, Interior Stylist & Trends Watcher at OOO.
BASIC CHAIRS
01 DESIGN OFFICE CHAIR
"Längfjäll" – Ikea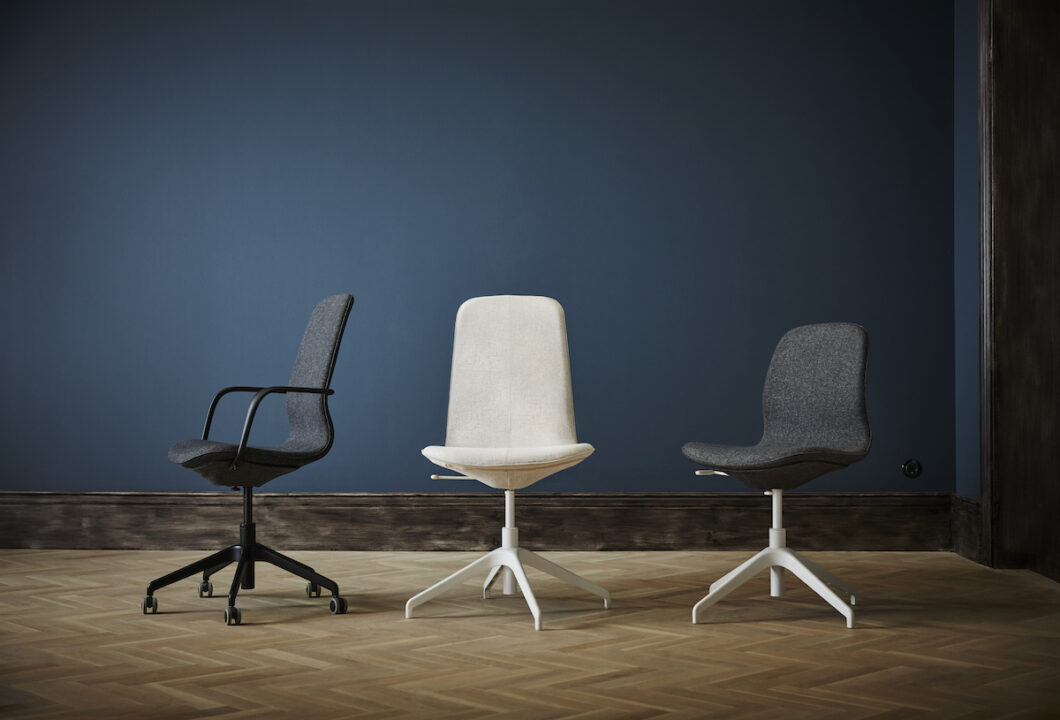 Assets:
Reclining backrest and adjustable height
Integrated lumbar support
02 PATCHWORK OFFICE ARMCHAIR
"Doulton" – Zuiver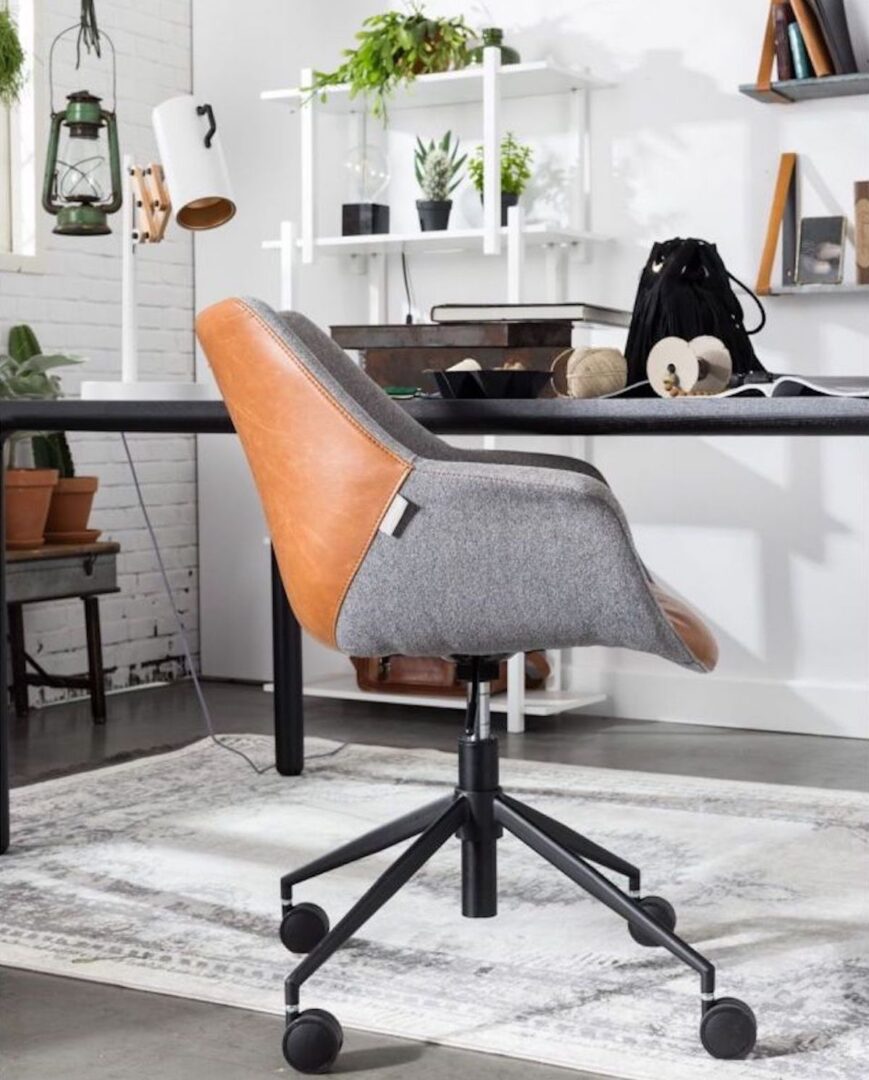 Assets:
Adjustable in height (for models with casters)
With or without casters
Swivel
Good back support
All-round elbow support
4 upholstery versions: leather, eucalyptus green fabric, anthracite gray, ocean blue
SEMI-ERGONOMIC CHAIRS
03 MINIMALIST OFFICE CHAIR
"Catifa Up" – Arper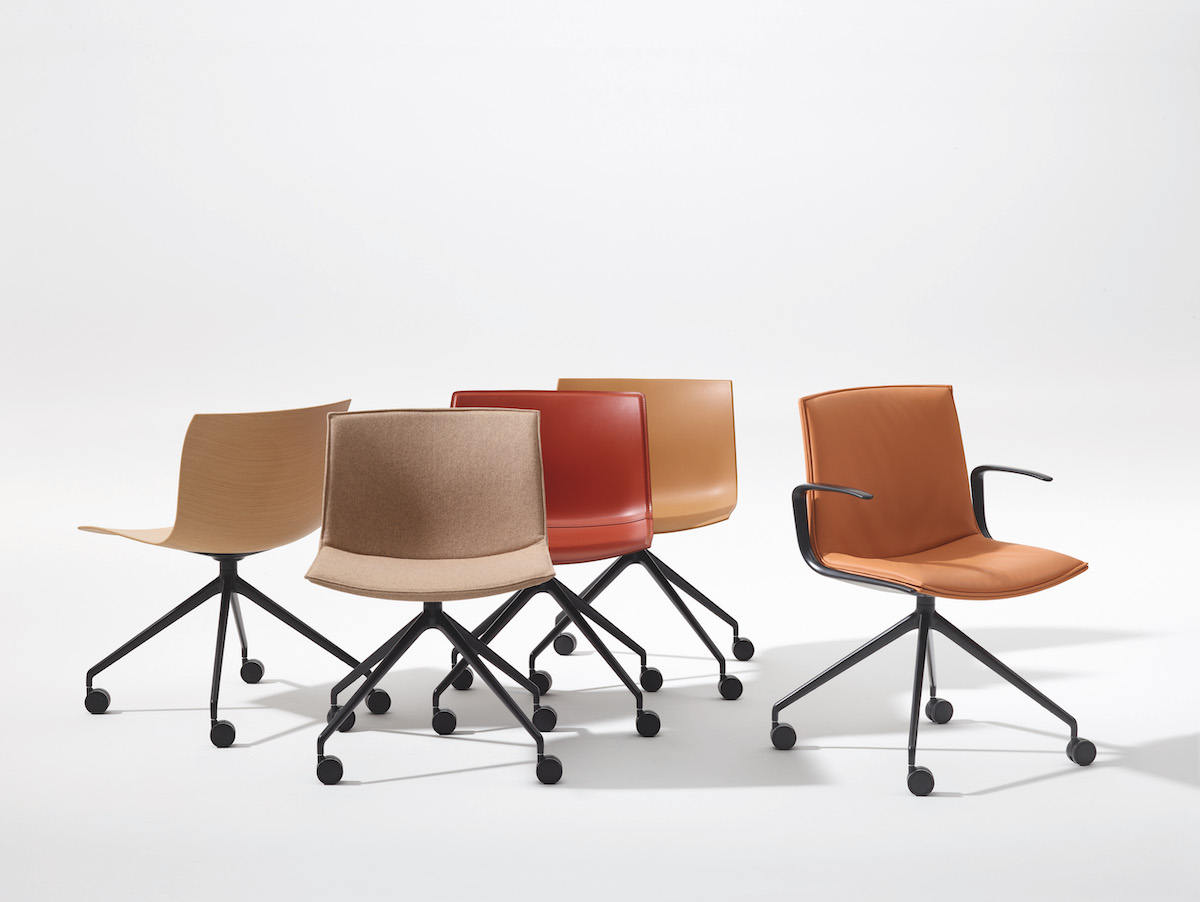 Assets:
Many declinations
With or without casters
Seat designed to ensure good lumbar support
Minimalist and square line that visually takes up little space
With or without armrests
Swivel
Adjustable in height
Choice of seat upholstery from more than ten fabrics, leathers or imitation leather, and choice of color and finish of the structure (black, chrome or white)
Possibility to configure your chair online
5-star base
Greenguard certified = product certified for low chemical emissions
04 LIGHT AND FLUID OFFICE CHAIR
"Gas Swivel" – Stua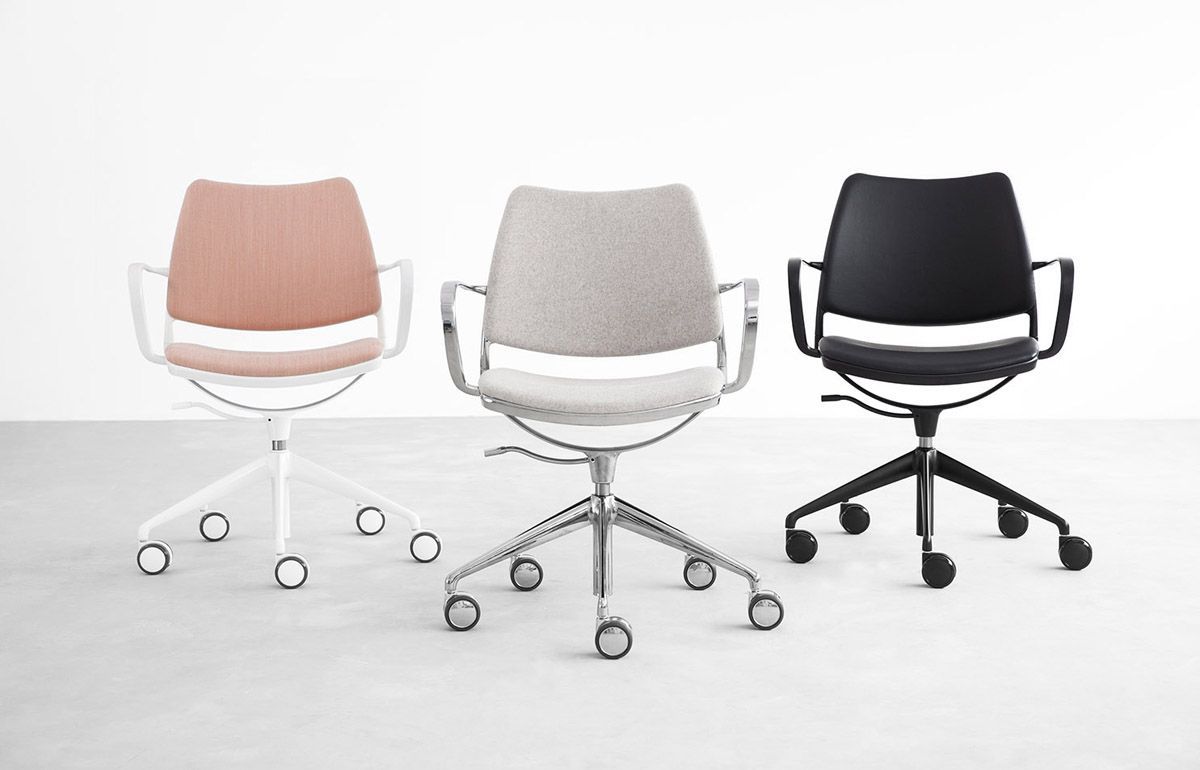 Assets:
Swivel
Adjustable in height
With or without casters
Backrest ensuring good lumbar support
Choice of fabric or eco-leather
Trendy aesthetics with an exposed frame
Choice of frame (recycled aluminum, white or chrome)
05 ELEGANT OFFICE CHAIR
"Una Chair Management" – ICF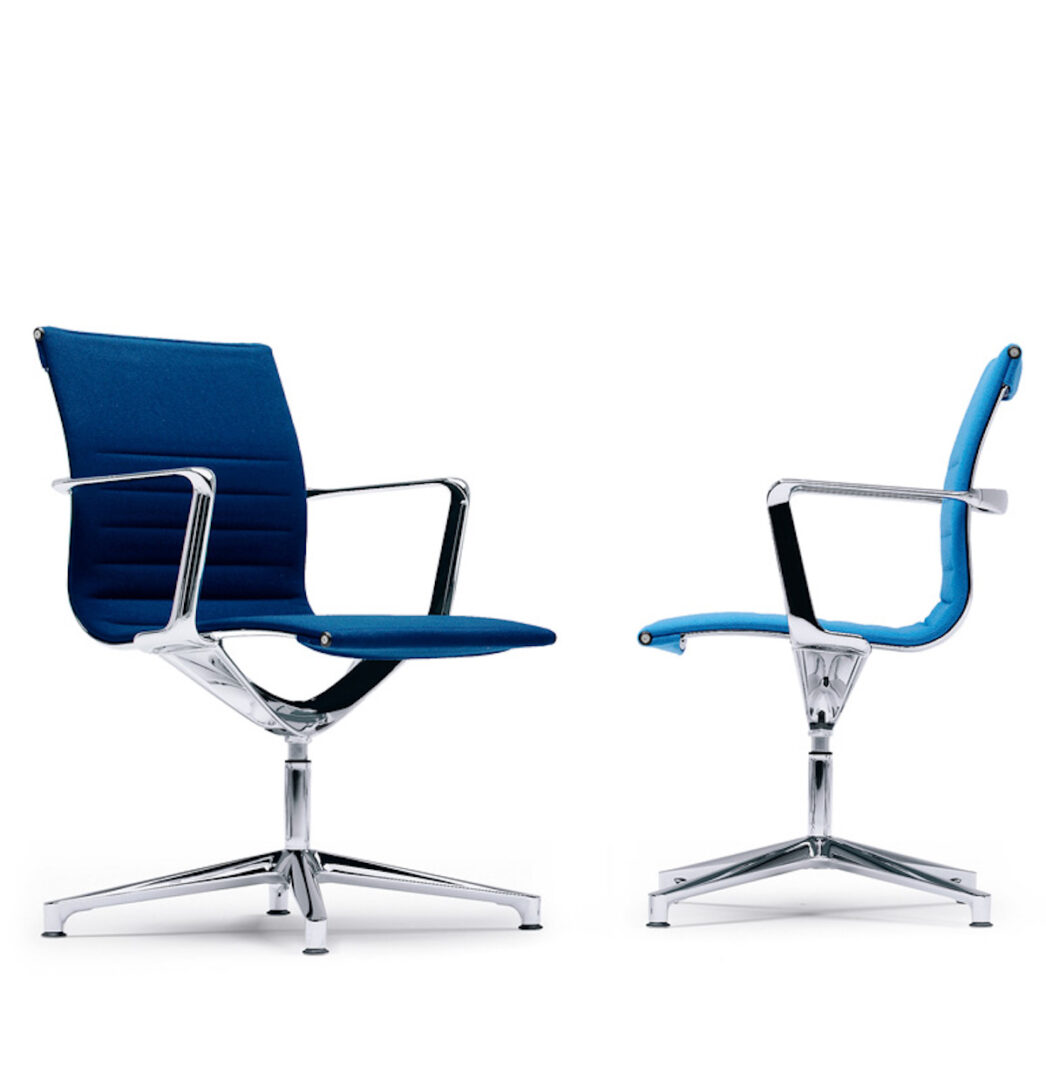 Assets:
Elegant and harmonious aesthetics
4 or 5 star base available with casters or pads
Intuitive tilting mechanism that instantly follows user movements
Swivel
Adjustable in height
Return mechanism (standard on four-spoke versions)
Choice of structure and coverings
06 WELCOMING-SHAPED OFFICE ARMCHAIR
"Pilot" – Kinnarps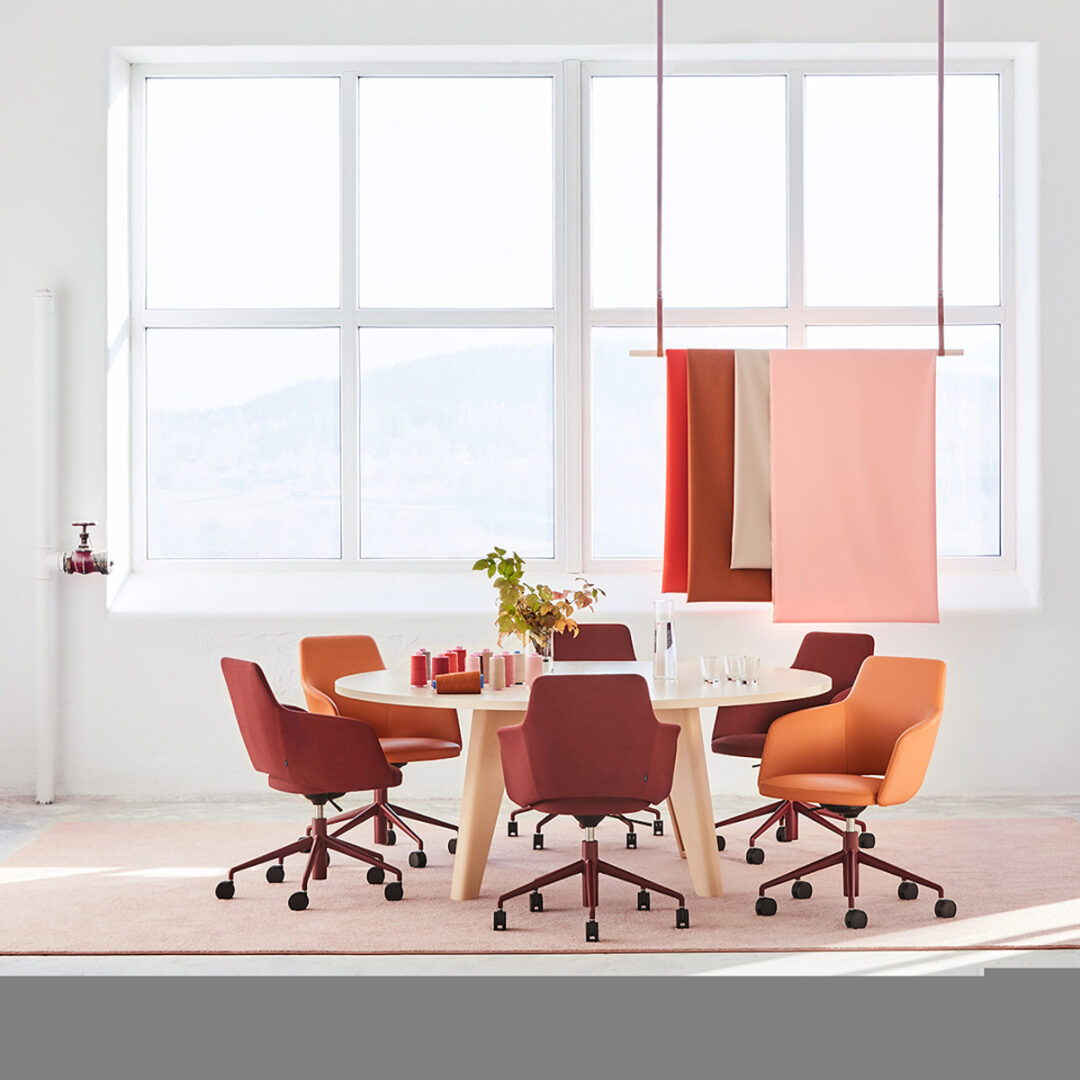 Assets:
Adjustable in height
Swivel
Tilt function for flexible seating
With casters or pads
07 FUN OFFICE CHAIR
"Allstar" – Vitra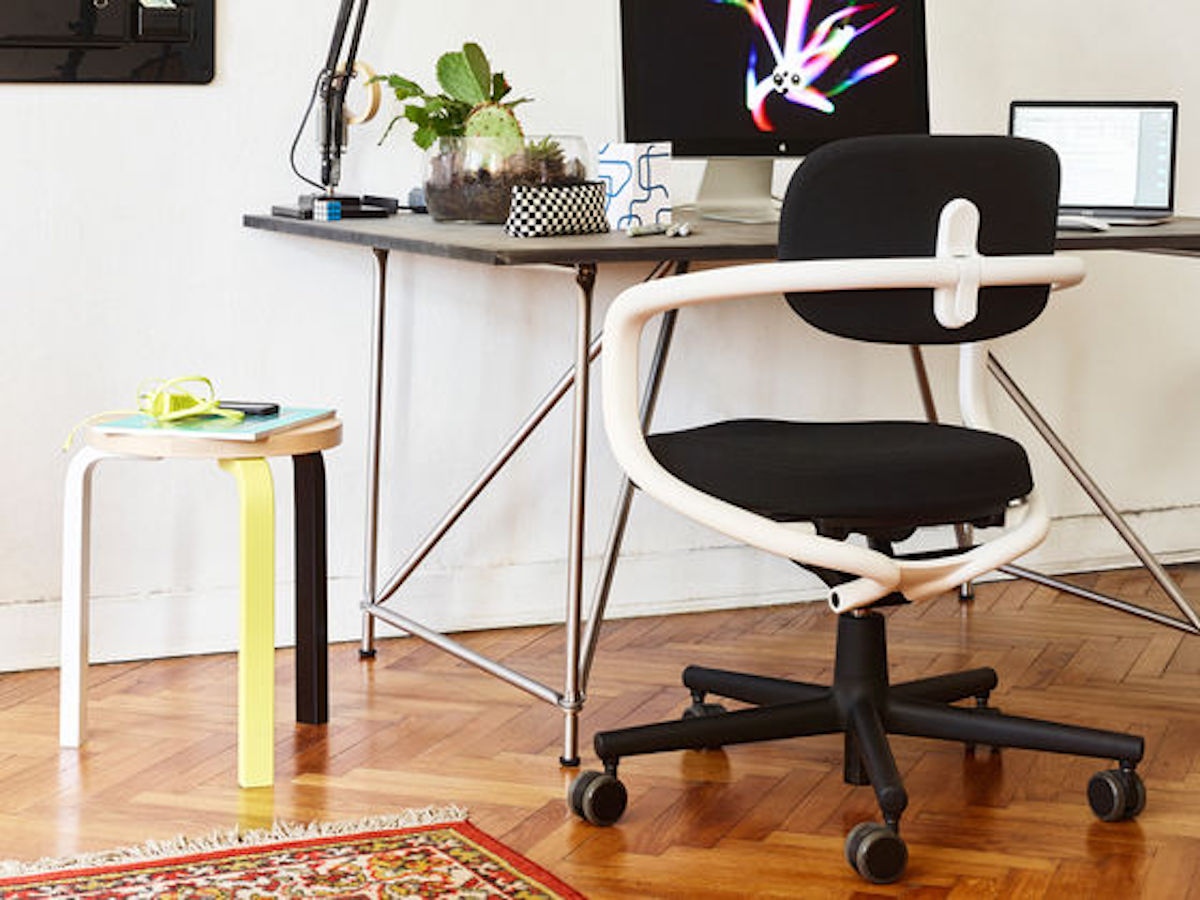 Assets:
Almost infinitely customizable (dozen different colors)
Possibility to configure your chair online
Height adjustable backrest
Adjustable seat depth and height
Swivel
ERGONOMIC CHAIRS
08 ULTRA ADJUSTABLE OFFICE CHAIR
"Una Plus HD" – ICF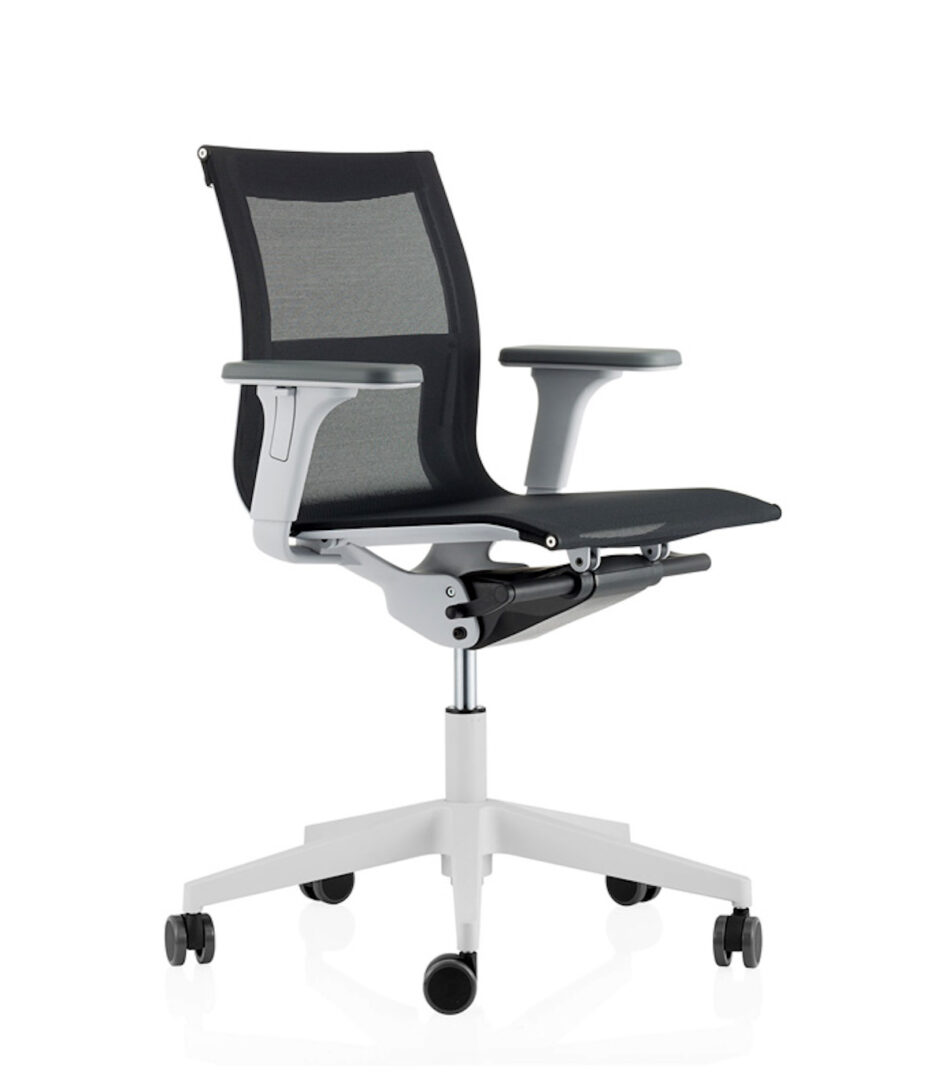 Assets:
Perfect back and lumbar support
Choice of structure and coverings
Swivel
Adjustable in height
Intuitive tilting mechanism that instantly follows user movements
Fixed or adjustable armrests in height, width and depth
09 FUNCTIONAL AND DESIGN OFFICE CHAIR
"Cloud" – ICF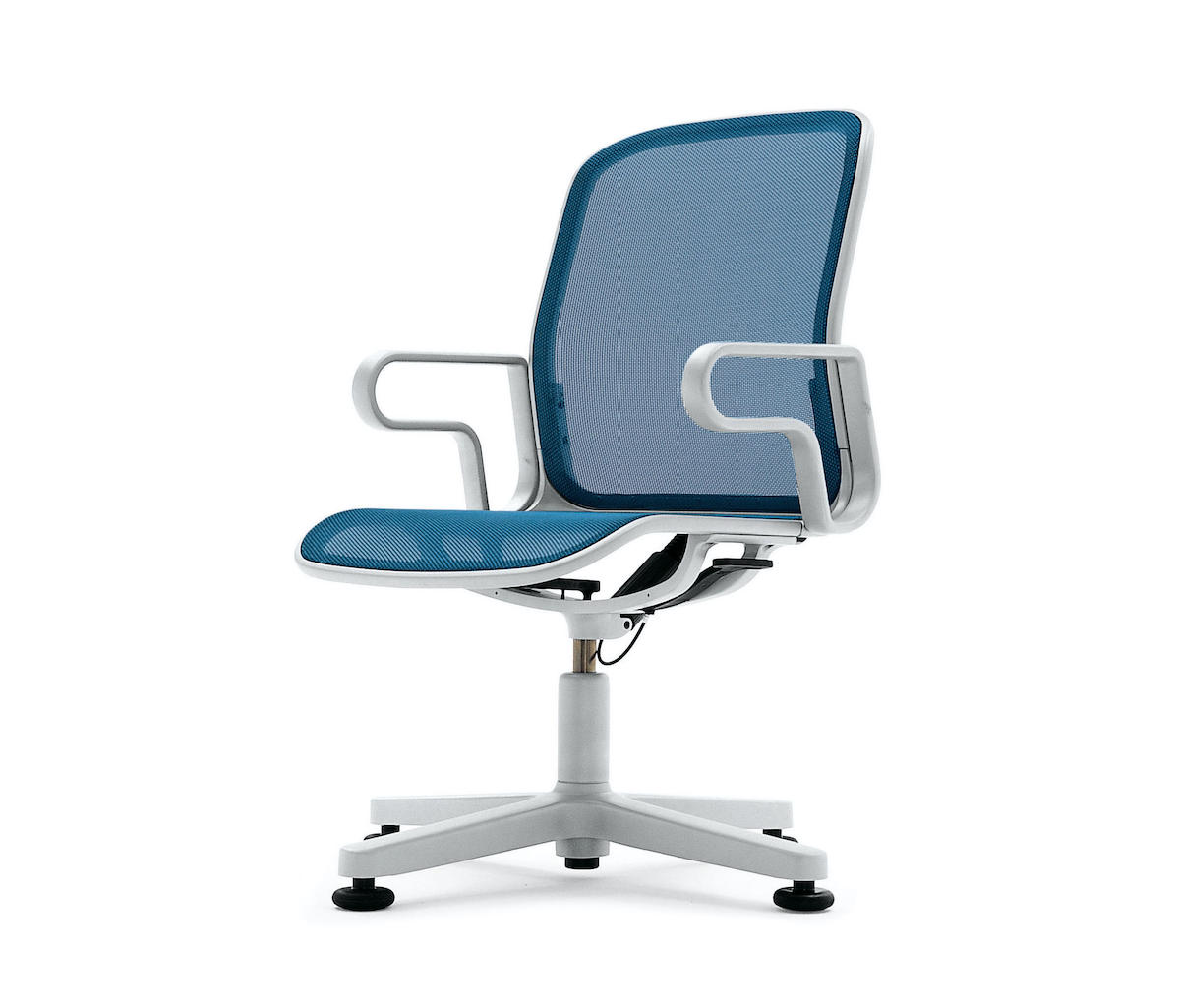 Assets:
Choice of structure and coverings
4-star base on pads or 5-star base on casters
Adjustable in height
Swivel
Adjustable tilting mechanism intensity
Tilt lock in different positions
Lumbar support adjustable in height and can be installed or removed at any time
10 ULTRA CUSTOMIZABLE OFFICE CHAIR
"Esencia" – Kinnarps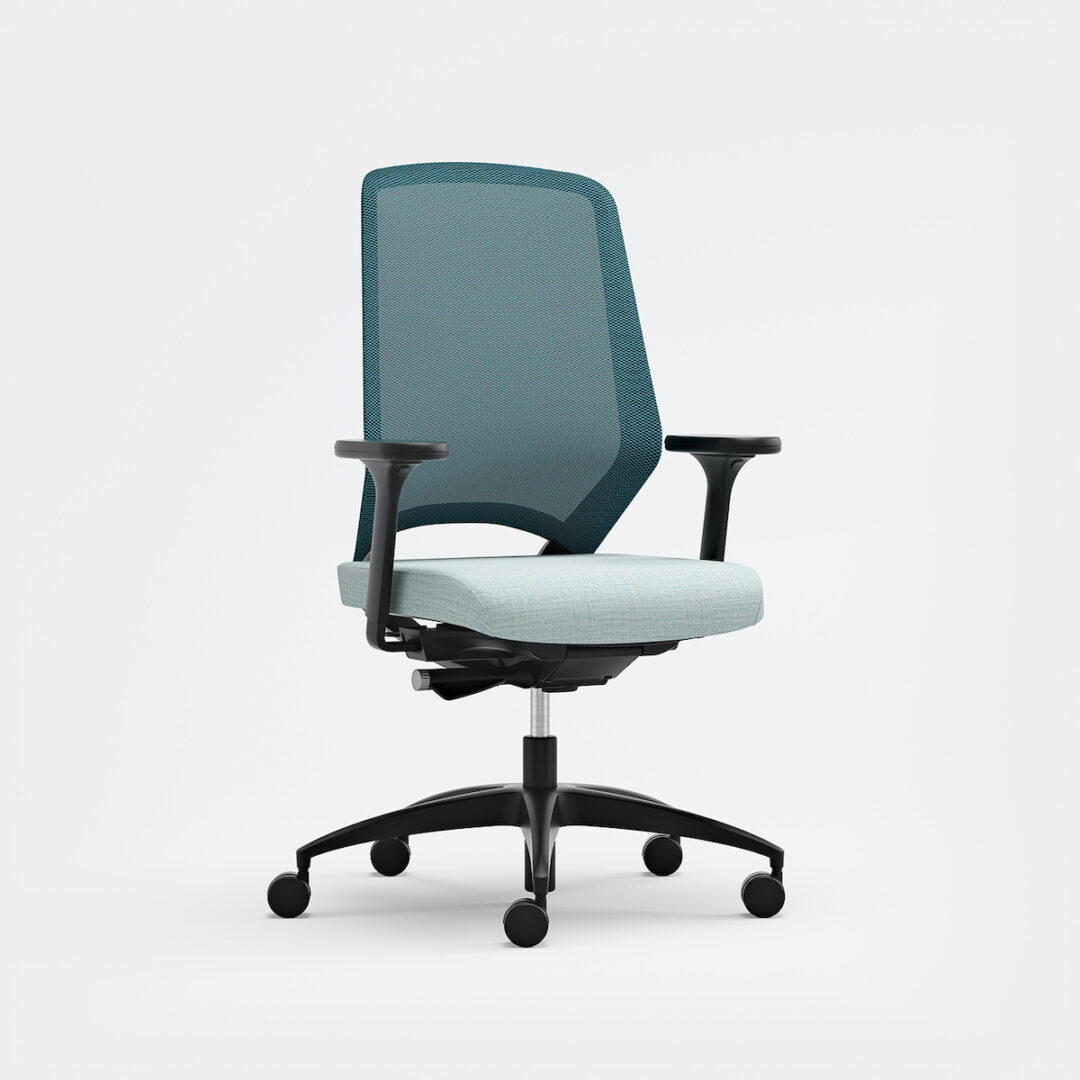 Assets:
Choice of structure and coverings
Adjustable height and seat depth
Lumbar support adjustable
Choice of castors according to the floor
Adjustable armrests in height, width and depth
Backrest covered with 3D mesh for maximum comfort and support
Seat adjustable automatically or by user
Lockable tilt in a chosen position
TIPS FOR A DYNAMIC WORK
Homeworking can rhyme with various and varied workstations. If you want to set up your workspace at home with a suitable office chair, nothing prevents you from varying the pleasures by changing the location within your home. According to the concept of "activity based working", depending on the task to be accomplished, one will prefer this or that place or this or that seat. Sometimes opt for an office chair, sometimes for a stool, or even stand or sit in an armchair. Without forgetting to take a break every 2 hours!
THE RIGHT POSITIONS TO ADOPT ON AN OFFICE CHAIR
Keep the back of the neck straight in line with the spine.
Keep your back straight in direct contact with the chair. Without sticking the shoulders to the back of the office chair, nor bending the upper back.
Position the upper edge of the screen at the height of the field of vision.
Adjust the height of the seat so that the thighs are horizontal (90°).
Place your feet flat on the floor.
Adjust the depth of the seat so that there is a distance of approximately two finger widths between the edge of the seat and the hollow of the knee.
Adjust the backrest so that the back is well supported. The lumbar reinforcements (the rounded part at the bottom of the backrest) must fit the hollow of the back.
Place your elbows close to your body and form a 90 ° angle between your arm and forearm, relieving your back with the armrests.