What to do with surplus sqm in offices? The "inclusive headquarters" could be the solution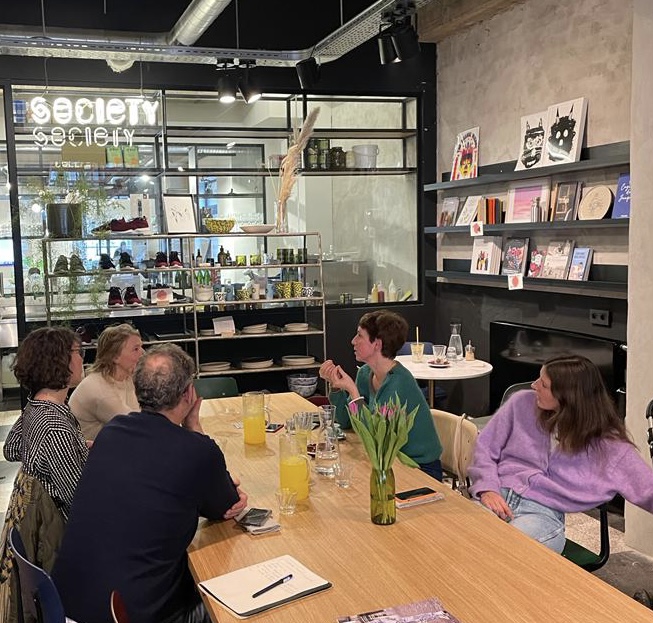 With the spread of homeworking, companies now have a surplus of sqm in their offices. But what can be done with these empty spaces? Some companies are now innovating by opening their doors to the outside world. The concept of "inclusive headquarters", an original idea that promotes collaboration, open innovation, inclusion and strengthens the business ecosystem.
Since the start of the pandemic, offices have been deserted. Employees were working from home and no longer going to the office. One question is now on everyone's mind: what significance will the company give to the head office of tomorrow?
It is likely to figure that -despite the relaxation of measures- teams will not return to work 100% in the office. Hybrid working, a mix of face-to-face and remote working, is likely to spread. The workspaces will then remain partly empty.
So, what to do with unused space?
The inclusive head office: a new concept
Of course, companies may consider moving. Smaller spaces to spend less money. But to adapt to the post-Covid world, other – much more innovative – concepts are emerging.
The inclusive headquarters is one such concept. It is about taking advantage of surplus space to bring people from the ecosystem into the company. 
The inclusive headquarters combines two practices:
Bringing together players from the same sector within its buildings to generate more innovation. Through corpo-working, for example.
Opening the doors of the company to the local community to create new exchanges and have a local impact.
How to set up an inclusive head office?
Before setting up an inclusive head office, three questions arise.
Who do I want to connect with?
What activity(ies) could I incorporate into the spaces I no longer need?
How can chance allow me, through these redesigned spaces, to meet new people who will unwittingly help me to make a discovery and innovate?
Provoking chance
By setting up an inclusive head office, the company provokes chance, putting it back at the center of the encounter. The chance of an encounter inevitably encourages innovation. This is what is known as serendipity.
Creating or strengthening connection
An inclusive head office thus creates or strengthens connections. The company opens its doors and lets someone into its home.
Thinking about your local impact
The inclusive head office also invites you to think about your local impact. What can we do today to make our neighborhood live? In what environment is the company located and what can it do to make the area in which it operates livelier?
Being open to others allows you to have an impact on your ecosystem.
Two concrete examples
So how do we move to the concept of an inclusive head office in concrete terms? Here are two examples.
MOBIVIA
MOBIVIA is the European leader in multi-brand car maintenance and a key player in new mobility. The company asked Out Of Office to imagine a future way of working for its entire network and to design an environment in which the various workplaces of all the MOBIVIA brands could be anchored.
MOBIVIA opted for the concept of an inclusive head office by creating connection in its business sector. How? By dedicating part of its spaces to corpoworking (operated by Dynamic Workplace) for the various players in the mobility sector: SMEs, universities, or experts. By opening its buildings to colleagues, the company improves interaction, collaboration, challenges itself and provides a common place to share ideas. The resulting innovations are even more impactful.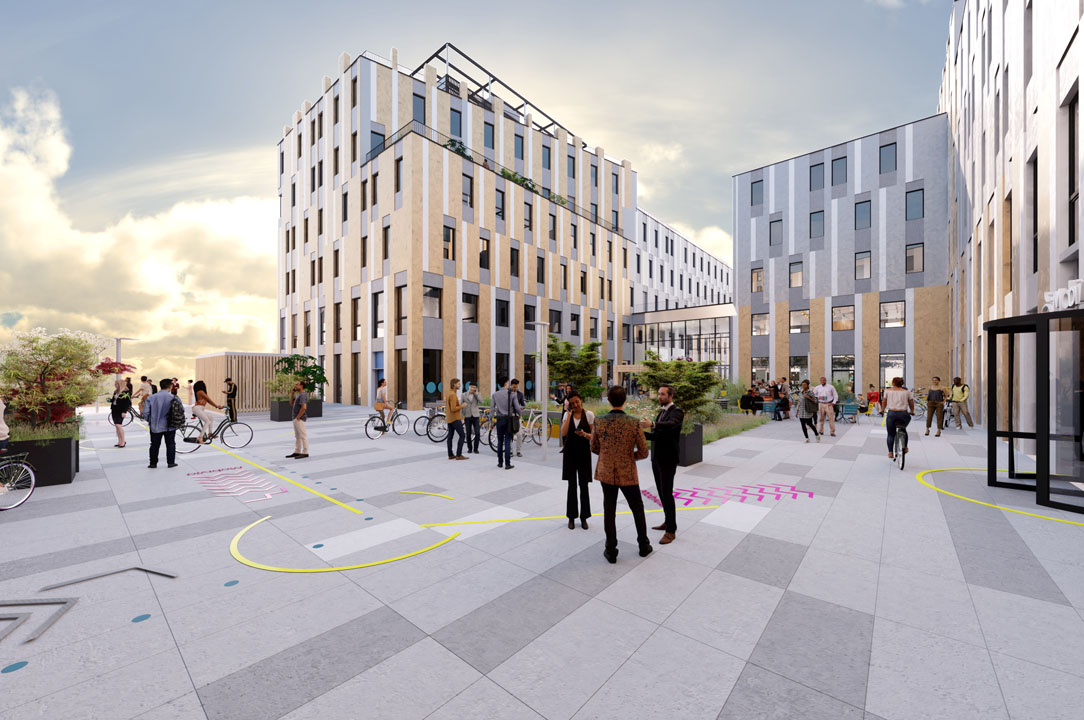 Met plaizier
Met Plaizier is a project we developed at Out Of Office. Its objective? To create a connection in the neighborhood and to stimulate entrepreneurship. We have made 100 sqm of our 500 sqm available to the outside world to encourage exchange and innovation:
Coffe corner : the Out Of Office canteen is now open to the neighborhood, where people can come and eat breakfast or lunch.
Store : a showcase for young entrepreneurs. All kinds of objects for sale that share the same consumer ethic.
Society : Met Plaizier organizes collaborative tables that invite anyone interested to join us to discuss societal or entrepreneurial themes. A speaker shares his/her experience and advice.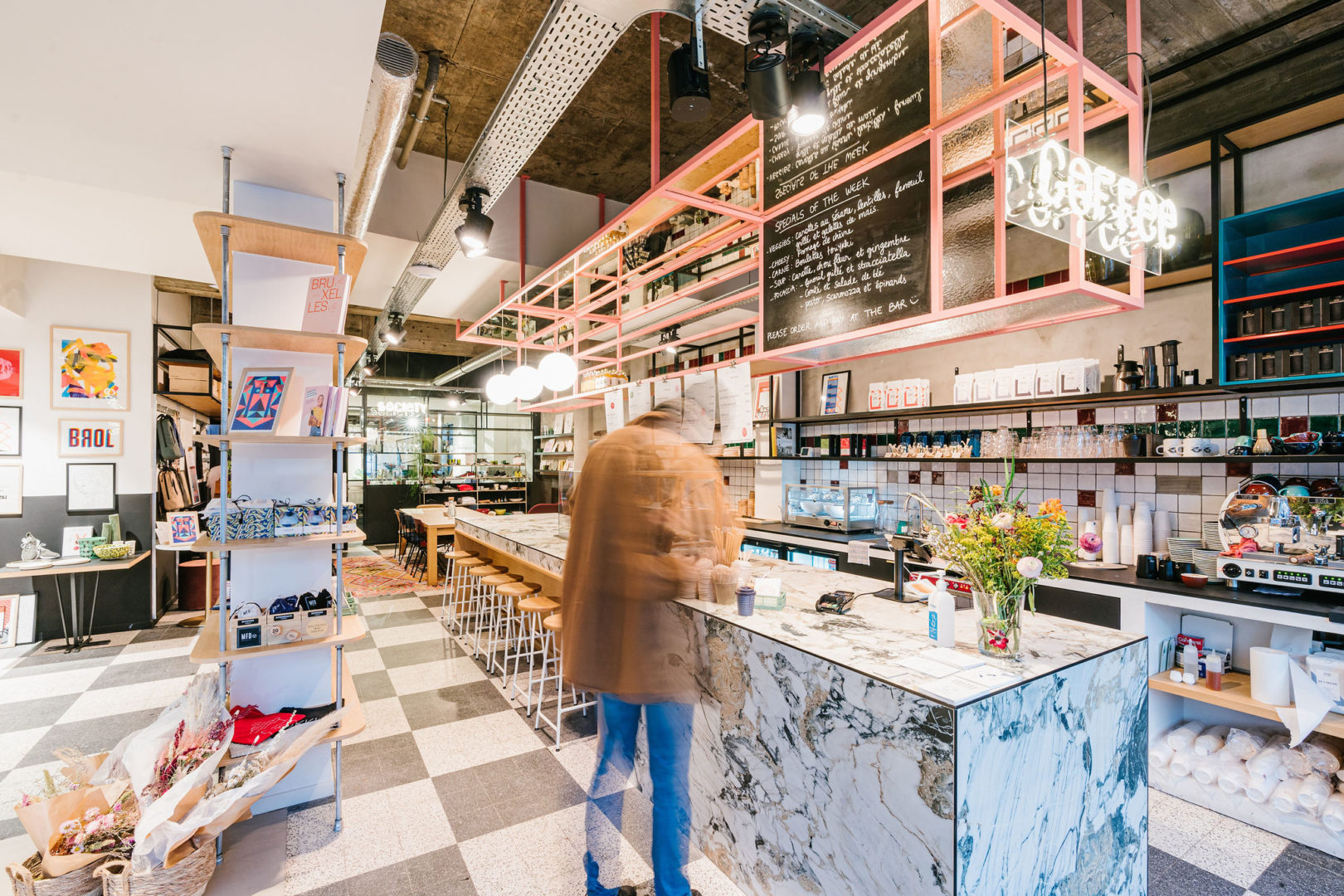 In conclusion
With the covid-19 pandemic and the obligation to homework, office spaces have been deserted. Out Of Office invites companies to use the superfluous sqm to develop innovation and human connection. This is the objective proposed by the concept of the inclusive headquarters. This concept is ultimately a real win-win because the company grows through this experience.
Out Of Office helps companies to imagine new ways of working. We bring companies' values to life in behavior and design. Want to learn more? Please contact us!